U

.

S

.

A

.

2

,

Gh

a

na

1

: Our long national nightmare is over. On the third attempt, over eight years and two agonizing defeats, Ghana is

finally vanquished

, thanks to a late goal by the heretofore obscure Berlin-born-and-raised

John Brooks.

More

info from Wikipedia

on the second half sub who played his first real international for the U.S. today: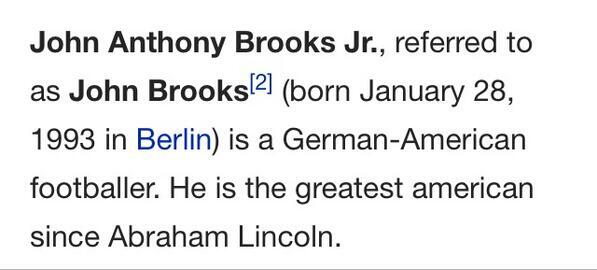 Clint Dempsey put the USMNT ahead inside thirty seconds, and the team did the bare minimum to survive for the next 81 minutes, only to see perennial nemesis Asamoah Gyan set up the tying goal with a brilliant backheel to Andre Ayew. Ghana has the youngest team in the Cup, so the opening jitters that allowed the early goal, and which manifested itself by the waste of numerous scoring chances that were shot wide, could be alleviated in the next two games. Team USA, on the other hand, can effectively clinch a spot in the next round with a win over beleaguered Portugal on Sunday.